The Zephyr Thermal Transfer Barcode Scanner Label Printer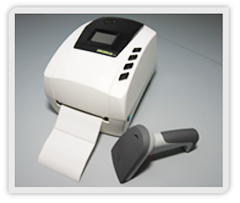 Can something this small be so efficient, easy-to-operate, reliable and cost effective? Absolutely, and once you've tried it you're going to wonder how you ever did without it. We've provided a thermal printing solution that combines state-of-the-art technology, and a variety of enhanced features and capabilities without sacrificing performance and durability.
Easy to set-up, easy-to-use
Open the box and you're practically ready to go. The Zephyr Thermal Label Printer comes complete with all hardware and software. Set-up takes just a few minutes and then you're ready to print. Included in your kit are:
Thermal Transfer Printer for barcode labels printing. Ideal for printing bar codes, serial numbers and other variable data. Zephyr label printer brings fast, professional labeling to your desk or anywhere you need to print small numbers of bar code labels, receipts and tags.
Barcode Label Printing Software that will allow you to make print Bar Coded Labels at a click of a button.
Barcode scanner for scanning which delivers accurate bar code scanning anywhere in the workspace. Superb scanning functionality enables users to hold the barcode scanner at any angle and scan even the smallest, stacked or poorly printed bar codes. The unique design maximizes reliability by removing typical areas of vulnerability. Featuring an ideal balance of performance, durability, ergonomics and connectivity solutions, the Zephyr barcode reader delivers years of hassle-free scanning for applications in Retail, Warehouse, Manufacturing, Distribution - and all points in-between.
Thermal transfer ribbons which provide high definition images with superior edge quality and smudge resistance that has maximum print performance. Each ribbon is formulated to print high-density bar codes, text and graphics for product identification, work-in-process, inventory control, shipping and other applications
Thermal transfer labels that provide durable, high-quality labels produced on high demand. They are a premium coated, ultra smooth thermal transfer label stock, suitable for most retail and industrial applications, with excellent ink receptivity.  The bright and matte white finish provides a dense, smudge resistant face sheet for excellent imaging properties.
We are environmental friendly and socially responsible.
Our products are totally ROHS compliant. We have adopted EICC (Electronic Industry Code of Conduct) to improve working and environmental conditions in our operations. 
Top Label Supplier in the South East Asia since 1973.
Die-Cut Parts
Industrial Labels
Thermal Printing Solution
RFID
Security Labels
Consumer Labels
Address:19, Woodlands Terrace, Singapore 738444.
Telephone: +65 6755 3922
FAX: +65 6755 3911