Custom shipping and personalized mailing labels.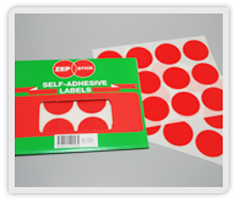 You want your labels personalized to fit and enhance your company's image. A poorly printed or ragged label attached to your firm's product or shipping package does not create the image you want. We make sure that won't happen. When it comes to customized laser and inkjet label sheets for all the main sizes of A4, we have precisely what you need.
You can design and customize the exact labels you want in a wide variety of sizes, shapes and quantity. Select the number you'd like per page. Choose background and colours. Our self-adhesive product selection includes address, coloured, round, transparent, removable and much more. We have what you want and if for some reason we don't, we'll create it.
Whatever you need from CD/DVD, card stock, colour, file folders, mailing, name badge, shipping and more, we'll deliver in perfect condition, on time, and at the best possible price.
Our laser label sheets are used for printing with printers found in most business environments. They work well with all HP, Xerox, Lexmark and all common brand laser printers. We also use the best possible adhesive to eliminate the possibility of labels peeling off and jamming your presses. We will never sacrifice the quality and integrity on our labels which means you get perfect runs time after time.
Our inkjet label sheets are designed to work with all inkjet printers. We use a special absorbing paper which helps prevent smudging and running. Just another example of how far we will go to make sure you have the highest quality labels possible.
We are environmental friendly and socially responsible
Our products are totally ROHS compliant. We have adopted EICC (Electronic Industry Code of Conduct) to improve working and environmental conditions in our operations. 
Top Label Supplier in the South East Asia since 1973.
Die-Cut Parts
Industrial Labels
Thermal Printing Solution
RFID
Security Labels
Consumer Labels
Address:19, Woodlands Terrace, Singapore 738444.
Telephone: +65 6755 3922
FAX: +65 6755 3911