Protect your products from counterfeiting and tampering.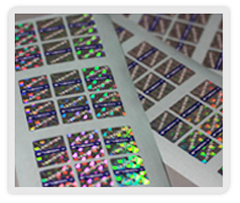 Counterfeiting and tampering cost businesses billions every year, and alarmingly, it's on the rise. We have the security seals, stickers, tags or labels that will help protect your products from this type of illegal activity, and we offer  different types of tamper evident / proof materials that can also be used for warranty purposes. We'll work with you to help develop the label that best suits your specific security needs.
Zephyr tamper evident security labels are currently being used for software packaging, calibration records, retail sale labels, asset labels, ID labels, tracking labels and more. Our high adhesion paper tamper-evident labels are ideal for sealing cartons, and packaging of high value products like ICs, components, and pharmaceutical products. And our destructible vinyl and "VOID" PET label are excellent for warranty label, covering screw hole or enclosure of your product to prevent unauthorized opening.
Holograms, too.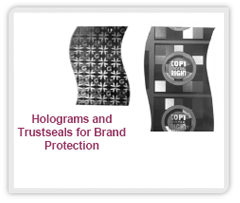 For high-end solutions, we can easily incorporate holograms to give your products added security and protection. The unique optical effects of holograms offer effective security features that are easy to describe, identify and difficult to copy or imitate.
TRUSTSEAL®
High-End Solutions for Brand Protection
By incorporating TRUSTSEAL® features into our labels we provide an increased level of product protection and a wider choice of optical effects for brand owners looking for a flexible brand protection program closely tailored to individual brand and market requirements.
TRUSTSEAL® meets the three main criteria of an effective security feature:
• easy to describe
• easy to identify
• difficult to copy / imitate
The level of security can be adapted to the needs and particular set of requirements of the manufacturer by means of numerous extra elements. Refer to http://www.kurz.de/kurzweb/en/home.nsf/contentview/66F10E932FE0C972C1257036002E6329/$FILE/66F10E932FE0C972C1257036002E6329.pdf for more information.
We are environmental friendly and socially responsible
Our products are totally ROHS compliant. We have adopted EICC (Electronic Industry Code of Conduct) to improve working and environmental conditions in our operations. 
Top Label Supplier in the South East Asia since 1973.
Die-Cut Parts
Industrial Labels
Thermal Printing Solution
RFID
Security Labels
Consumer Labels
Address:19, Woodlands Terrace, Singapore 738444.
Telephone: +65 6755 3922
FAX: +65 6755 3911