The smart label that's has revolutionized package/shipment tracking.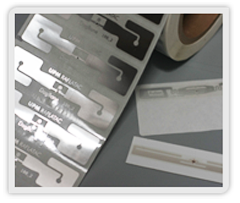 A smart label is a pressure-sensitive label with an RFID transponder (inlay) embedded between the label face stock and its release liner. This RFID tag can be encoded with large amounts of variable information which can be gathered by an RFID reader. Unlike bar codes, RFID data can be accessed without the visibility of the tag itself, and multiple RFID smart labels can be read at the same time.
It's hard to remember a time when shipping and tracking merchandise didn't utilize RFID labels. But not all RFID labels are created equal. Some are superior to others, and those are the kind we manufacture.
Customized options, stock, and a lot of expertise.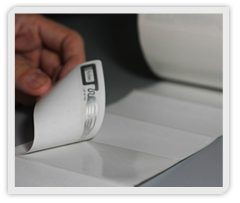 That's what you'd expect from Zephyr and that's what you'll get. For example, we can imbed tags on any part of the label to meet your specifications. And if you're not sure what type of stock would be best for your application, we'll put our expertise to work and give you viable suggestions – then we'll back it up and guarantee its performance. Not many companies will do that.
Variety? Our facestock materials are available in papers, film and other synthetic substrates – all of which can be provided in custom shapes and sizes, along with high-or-low-tack adhesives. We'll be happy to recommend the adhesive that will give your labels optimum performance.
As deadlines approach for complying with the Electronic Product Code (EPC) RFID mandates of numerous retailers and government agencies, many suppliers are not yet fully prepared to encode RFID smart labels in their own facilities, and other suppliers might prefer to purchase encoded labels from a third party on a permanent basis.
Zephyr is equipped with the latest smart label encode-print systems. Information is encoded on ultra-high frequency (UHF) RFID transponders embedded in pressure-sensitive smart labels, and then in-spec encoding is immediately verified to ensure readability.
Our systems also can add text, bar codes and/or graphics using direct-thermal or thermal-transfer printing technology. Smart labels embedded with EPC UHF Class 1 and Class 0+ transponders are available from Zephyr
Variety, expert guidance, superior quality, and rapid delivery, always at the best possible price.
We are environmental friendly and socially responsible
Our products are totally ROHS compliant. We have adopted EICC (Electronic Industry Code of Conduct) to improve working and environmental conditions in our operations. 
Top Label Supplier in the South East Asia since 1973.
Die-Cut Parts
Industrial Labels
Thermal Printing Solution
RFID
Security Labels
Consumer Labels
Address:19, Woodlands Terrace, Singapore 738444.
Telephone: +65 6755 3922
FAX: +65 6755 3911